Here in the Lowcountry we are certainly in the dog days of summer. We have had steady air temperatures in the 90s with the heat index pushing 110 degrees at times. The water temperature hovers between 80-88 degrees depending on depth and time of day, but if you catch yourself fishing an early evening flood tide, you might see temperatures around 90! In an effort to dodge some of the heat, we are most often fishing the early morning and later evening tides. We also regularly get a strong afternoon thunderstorm, another reason to get up and after it on an early morning trip. Our guides are typically running 4-6 hour charters during August to try and keep you on fish before the temperatures climb too high. Not only is it likely too hot for the angler, it's also too hot for the fish.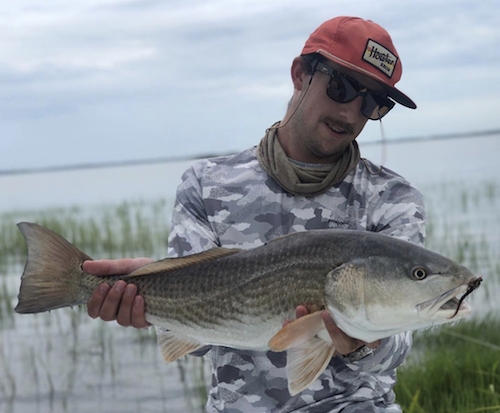 The morning tides have been producing a lot of actively feeding fish this month. There is a plentiful abundance of shrimp in the creeks and on the edge of our flats, with redfish stalking them from below. It's not uncommon to see redfish or speckled trout busting the surface as they chase shrimp around for breakfast. We've had a handful of productive flood tides as well, catching tailing redfish in the grass as they bury their face in the mud searching for fiddlers. Both fly and light tackle has been proven to be successful as we've seen a variety of species in our boats. Redfish, Sea Trout, Flounder, Lady Fish, Triple Tail, Sharks, Jacks, and Tarpon are all inshore right now and can be targeted by both fly and spinning tackle. We have seen our fair share of Tarpon showing up as they are following large schools of bait inshore as they migrate. Nothing is guaranteed when chasing a Tarpon, but if you manage to get a hook into one…hold on!
As we turn the page on a hot August and summer overall, we start to look forward to fall fishing in September, October, and November. More flood tides, cooler water and air temperatures, and some very hungry fish! Give us a call, shoot us an email, or swing on by the shop if you have any questions or would like to book your next fishing adventure.