5 Ways to Make the Most of Your Time at Home
Quarantine got you stuck at home? Yeah, us too. Starting to go a little stir crazy? Forgetting what day of the week it is? Maybe wearing the same t-shirt for past 4 days? Yeah, maybe us too. Once you've watched all the Netflix, Amazon, Hulu, etc you can stand, why not try some of the following ideas out in order to hopefully make your quarantine a little more enjoyable, and even a little more fishy.
Always said "man, I wish I had the time to sit down and learn to tie my own flies". Well, there's no time like the present, quite literally. Here in the lowcountry we are about a month away from some really good months of fishing, so what better time than to learn how to stock your own box? There are hundreds thousands of videos on Youtube jam packed with instruction on learning to tie new flies, whether you're just starting out or a self-proclaimed professional. Not to mention, local shops need your support now more than ever, so give them (or us) a call and start prepping your work bench.
2) Practice Your Fly Cast


If you've heard it once, you've heard it a million times. Practice makes perfect. Ever blown a shot because you couldn't get the fly 10 more feet? Same. Well, now is the time to add that extra 10 feet. Slow it down, record yourself, figure out what's breaking down and learn how to correct it. Best way to practice is so tie a piece of yarn or an old fly with NO HOOK on and head out to the backyard and start slinging it. Keep the pressure off of yourself and just stay on the grass, no fish = no pressure. Use hula hoops, paper plates, cones, etc. to give yourself a target and really try to hone in on your fundamentals. If nothing else, you get a chance to get some fresh air and get out of the house.
3) Learn New Water From Your Couch
Tired of fishing the same old spots but don't want to waste a day on the water to check out a place that ends up being a bust? Well, now is the time to grab that cup ofcoffee (or glass of bourbon) and cozy up to your computer to find that new honey hole. Google Earth, if it's not already, will be your best friend when finding new fishing spots. With features like historical imagery, you can find what a certain area looks like on any given tide, they have pictures from the early 2000s so you're bound to find a high and low tide image. Mark those new spots in your GPS and check them out after you practice your fly cast with that brand new rod and reel setup ;)
How many times have you said walked into the fly shop and heard the rods and reels screaming your name? Begging you to buy them? Happens to us all. And you've been great, been a responsible consumer, a good husband/wife, held off on that new purchase. Well now it's your turn to indulge a little and feel good about doing it! Theeconomy is down, and what better way to help stimulate it than to get that shiny new rod and reel, just in time for early season flood tides. Not sure what to get? Give us a ring and we can help you narrow it down. Just remember, it's not just a purchase, it's an investment with a much higher ROI.
What better way to social distance than from the bow of a skiff? The fish haven't gotten the quarantine memo so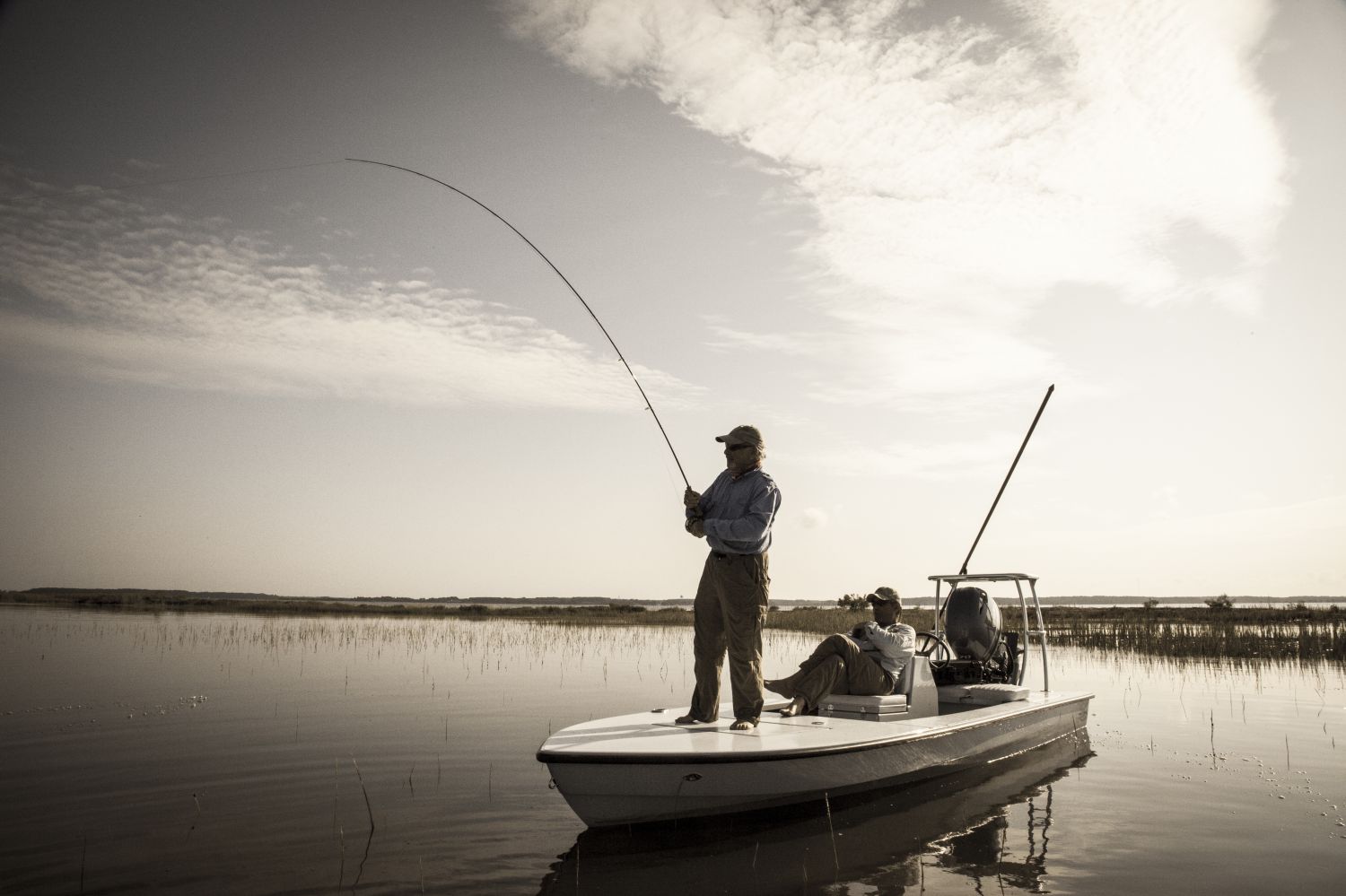 they're still out and about, going out to eat, hanging out in groups of more than 3, basically having a grand ole time. Our guides have availability in the coming weeks if you want someone to pole you around, they'll even stand at least 6 feet away at all times. (If you feel like you are at all unwell, ill, or have been in contact with the virus at any point, please only participate in tips 1-4)
Like many other retailers, we are still open to online, phone, and email sales. We can offer free curbside pickup as well. And like mentioned earlier, our guides are still available to run charters. If you need anything at all, give us a call at 843-524-5250 or shoot us an email at info@baystreetoutfitters.com. We hope you all are staying healthy during this time and can't wait to see you back in the shop when we re-open!