Summer time fishing is in full swing! August is one of the hottest months of the year here in the Lowcountry but can also produce some of the hottest fishing of the year depending on the tide and conditions. We try to focus mostly on early morning tides and late evening tides mostly for cooler conditions and better fishing. During August we also get afternoon thunderstorms pretty regularly which is another reason for fishing early in the day. Our guides our mostly running 4-6 hour trips during the month of August mainly to keep you on the best fishing for the day. After around 1pm its gets very hot with heat a heat index of around 100-110 degrees! Not only is that too hot for you as an angler but also too hot for the fish. Starting around 4pm the weather cools down and provides great evening tides for tailing Redfish on the Flood Tide.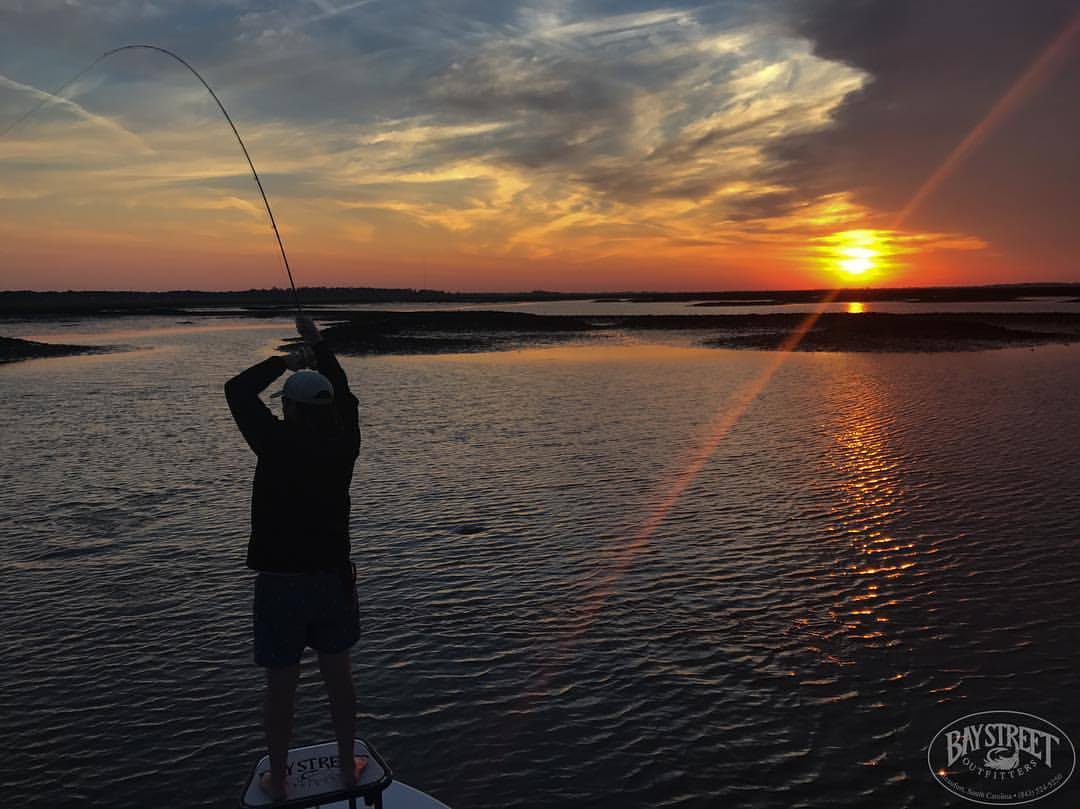 The morning low tides have been producing a lot of active fish in very shallow water! This August we had a lot of white shrimp start to move into the flats providing a full buffet for the Redfish. During these morning low tides you can find Redfish tailing, popping shrimp, and even crawling around with there backs out in just a few inches of water. The feeling of running out at 6:15 in the morning with the sun rising above the marsh is always one of our favorites. Light tackle fishing during August is also great in the mornings and late evening with tons of species including Redfish, Trout, Flounder, Lady Fish, Triple Tail, Blue Fish, Tarpon, Jacks, and an assortment of Sharks!
Tarpon have been showing up in good numbers as they follow the bait inshore during the migration. Nothing better than watching a 100lb fish jump 3 feet out of the water during a fight! As August comes to an end we are still fighting the hot weather and thunder storms but looking forward to cooler weather patterns and fall fishing ahead! Give us a call or shoot us an email to book your next fishing adventure today! Enjoy a few photos from our guides during there August season.