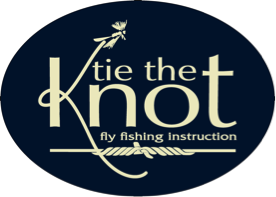 Molly Semenik, owner of Tie The Knot Fly Fishing, will be joining Renee Mathai and Bay Street Outfitters www.baystreetoutfitters.com for a women's fly fishing adventure in the LowCountry of South Carolina!
Historic downtown Beaufort, SC is our home base. Beaufort is located in the middle of 25% of the entire United States east coast marshland water. Visit www.beaufortsc.org. Renee has designed more than a fly fishing adventure. This trip also includes a carriage ride through downtown and a presentation of the ecology of the LowCountry. Everything about this trip will truly encompass the beauty and character of Beaufort. In keeping with past adventures, get ready for plenty of fishing-6 hours a day for three days! Our quest: sight fishing for Redfish. We may have a chance at sea trout as well. Each day, two hours have been set aside for casting instruction.
Molly has been fly fishing most of her life starting in Michigan, teaching in Utah, guiding in Montana and now residing in Birch Bay, Washington. She first began providing women's fly fishing adventure travel in 2001. Her destinations are mostly based in Montana, but this year, with Renee's support, it was time to branch out into waters that are unique and new for many of her clients who live throughout the United States. Tie The Knot is nearing 300 women/clients through Molly's adventure travel excursions.
On the home front, Molly continues to stay current with her Master Certified Casting Instructor certification. She is on the International Federation of Fly Fishers (IFFF) casting board of Governors and the IFFF Board of Directors. She has a new book out titled "25 Best Off-The-Beaten-Path Montana Fly Fishing Streams by Stonefly Press. She is busy learning the ways of the Salmon and Steelhead in the PNW and will again be traveling back to Montana twice in 2016.
As with all of Molly's past trips, this trip will be held to the same standards: Beautiful location, wonderful and unique lodging, professional and fun guides (Orvis endorsed) and time set aside for Molly to provide casting instruction. Bay Street Outfitters guides are also excellent instructors and will continue with the casting instruction while fishing.
Trip Details:
*This trip is designed for the intermediate fly fisher. Casting a distance of 40-50 feet in many cases with wind. The double haul is not mandatory, but is certainly an added benefit.
The Cost:

$2,950
Deposit:

50% of the trip cost/ $1,475 D

ue January 31, 2016, Final payment is due 30 days prior to arrival: March 4, 2016
Payment Information:

Check or credit card

Bay Street Outfitters c/o Tony Royal & Tie The Knot Group825 Bay Street Beaufort, SC 29902 843-524-5250

Refund Policy:

Refund deposit 30 days prior to arrival. No refund after 30 days.

Availability:

This trip is for seven guests based on single occupancy. I will take reservations based on a first come basis and anticipate selling out quickly. Please call if you are interested in joining us. Bay Street Outfitters: 843-524-5250

· Accommodations at the historic Cuthbert House Inn www.cuthberthouseinn.com We have set aside 6 single rooms and one double room

· All meals, we will take advantage of local fine dining all within walking distance of the Cuthbert House

· Beverages including beer and wine

· Guided fishing, ¾ day or 6 hours per day, two to a boat

· All flies included

· Fly rods/reels can be provided

· Casting instruction by Molly Semenik

· Carriage Ride

· No fishing license required




Package Does Not Include:

· Gratuities for the guides: $80-$100 per boat, split between two, per day

· Transfer from airport to Cuthbert House

Equipment:

8 weight rods will be used with floating lines and can by provided by Bay Street Outfitters. We will send out a detailed equipment list. If you would like to purchase a rod and reel, Bay Street Outfitters will offer an Orvis package at a 10% discount.




April 4, Monday:

Arrival early afternoon

Geography/Ecology of Lowcountry, speaker Renee Mathai, one hour

Intro. to fly fishing from a flats boat: Capt. Tuck Scott and Molly, one hour

Dinner at our Inn, 7:00 p.m.

April 5, Tuesday:

*Due to the tide, we will fish first and cast in the afternoon

Early breakfast. Guides pick us up at the Inn

Fish 6 hours (high tide is a 8:09 a.m.)

Instruction in the afternoon with Molly, two hours

Dinner at local restaurant

April 6, Wednesday:

Early Breakfast. Guides pick us up at the Inn

Fish 6 hours (high tide is a 9:02a.m.)

Instruction in the afternoon with Molly, two hours

Dinner a local restaurant

April 7, Thursday:

Breakfast. Guides pick us up at the Inn

Fish 6 hours (high tide is at 9:53 a.m.)

Beaufort History from a Carriage!

Dinner at a local restaurant

April 8, Friday:

Breakfast

Depart

Flight Information:

The nearest airport is Savannah/Hilton Head International Airport a 50-minute drive from Beaufort. Charleston International is not much further, so it is an option as well.

We certainly hope that you can join us for this exciting trip of sight fishing for Redfish in the LowCountry of Beaufort, SC! Please call with any questions you may have. Bay Street Outfitters 843-524-5250 info@baystreetoutfitters.com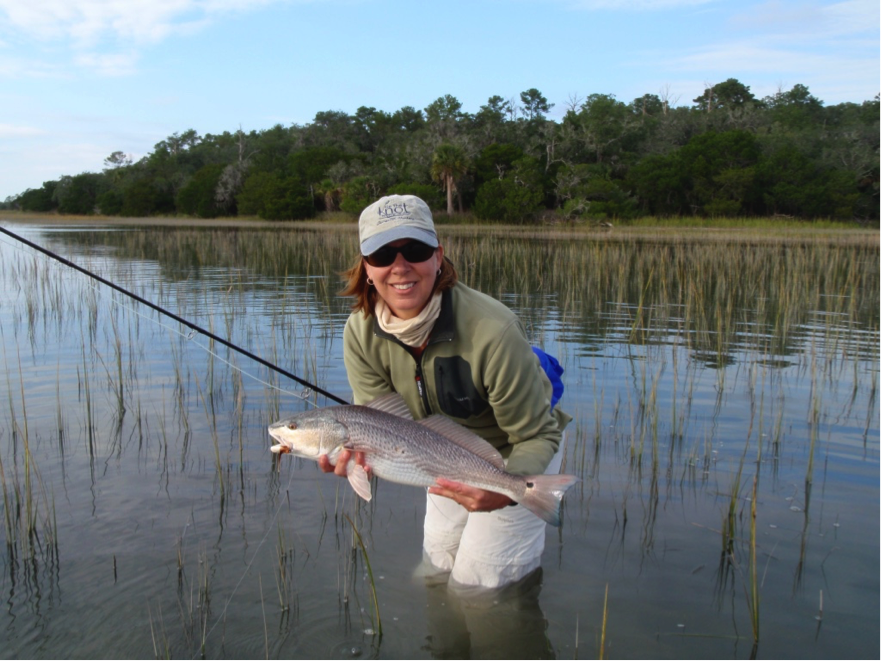 Molly with 1st Redfish in Beaufort, SC - 2008